Last updated on January 25th, 2015 at 11:14 pm
Disclosure: I received a gift card to try Bonefish Grill's new menu. As always, all opinions are my own. See full disclosure policy here.






Our family loves to eat out together, so we were happy to check out Bonefish Grill's new menu recently. If you haven't been there in a while, you've got to go!
There were four of us, and we all ordered something completely different, but everything was delicious! We actually all had to try each other's food because everything looked so good!
If you've never been to Bonefish Grill, they do serve fish of course, but they have so much more. Don't hesitate to visit if you have people in your family who don't want to order fish or are vegetarians.
Here's what we ordered:
• The only item not from the new menu…the Fontina Chop — boneless pork chop, fontina cheese, garlic, prosciutto, with mushroom marsala wine sauce (With mashed potatoes on the side–we love Bonefish Grill's mashed potatoes!)
• The favorite at the table…Ahi Tuna Steak — Yellowfin Tuna served with warm mango salsa (This was cooked so perfectly!)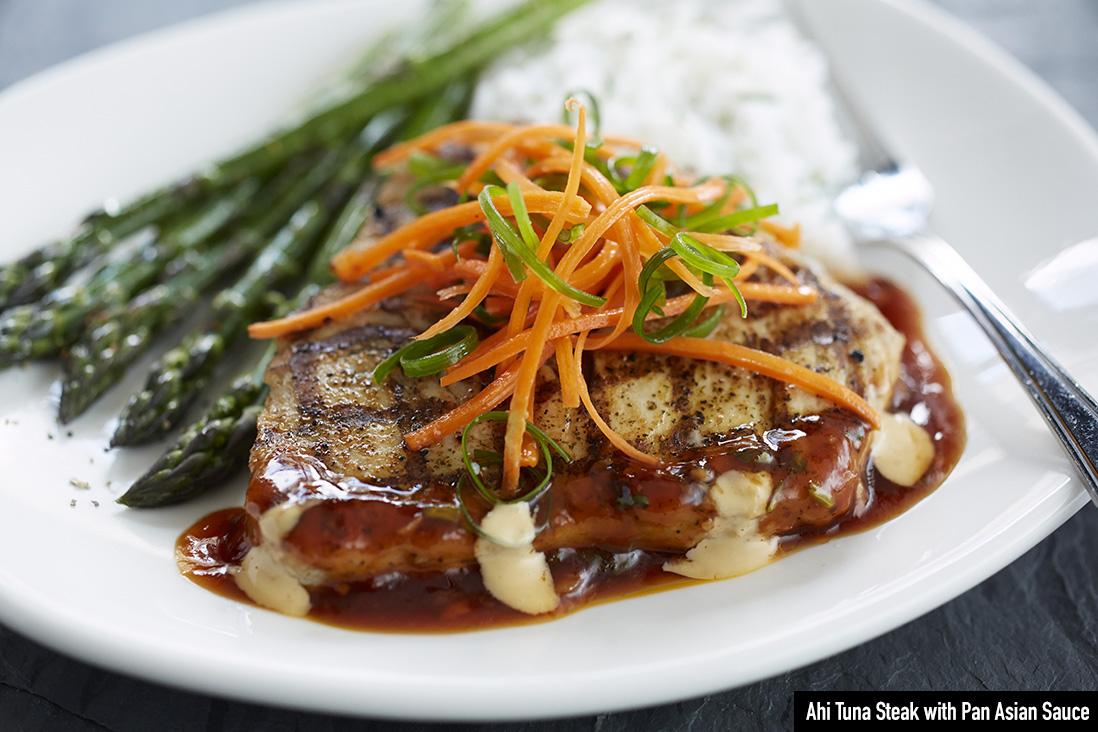 Photo courtesy of Bonefish Grill
• My youngest son ordered Lobster Grilled Cheese — cheddar, smoked mozzarella, North Atlantic lobster chunks, with fresh greens plus lobster bisque
Lobster Grilled Cheese with sides of Lobster Bisque and Mashed Potatoes
• Loved the pesto with this…Fire Roasted Vegetables — seasonally fresh selections + pearl couscous with herb pesto dipping sauce
Fire Roasted Vegetables with Pearl Couscous and Herb Pesto Dipping Sauce
Bonefish Grill also brings you the best bread with pesto dipping oil. That is always a favorite no matter what else we order.
We had a terrific, very knowledgeable server who told us about the new menu items, and the atmosphere at Bonefish Grill is always relaxing. It's the perfect place to get together with your family and friends.
As I mentioned, the tuna was the favorite at the table, but almost everything else was a close second! My son loved his lobster grilled cheese, one or two of us always get the mashed potatoes, and the asparagus is so good too. It's a little tough to order actually, since there are so many good choices at Bonefish Grill!
Check out the new menu here, and head over to try it for yourself!
Follow Bonefish Grill via Facebook, Twitter, and Instagram for all their latest news. Use hashtag #HelloNewMenu to show everyone your favorite new dish!
____________________________________________________

For more deals and coupons, check out my homepage at MomsWhoSave.com. 

You can also find me on Facebook and join me on Twitter, along with more than 125,000 other bargain hunters for daily deal updates! 

Don't miss a freebie, deal, or giveaway! Subscribe to MomsWhoSave's blog posts below! Then be sure to confirm your subscription when you get the confirmation email. 

Disclosure: MomsWhoSave posts may contain affiliate links or sponsored content that helps to support this site. See full disclosure policy here.
---