Last updated on November 26th, 2017 at 06:09 pm

Disclosure: This post contains affiliate links that help to support this site. See full disclosure policy here.
It's holiday party season and if you're looking for a simple, but elegant way to style your hair, you will love this side bun with a bit of bling compliments of our friends at MadisonReed.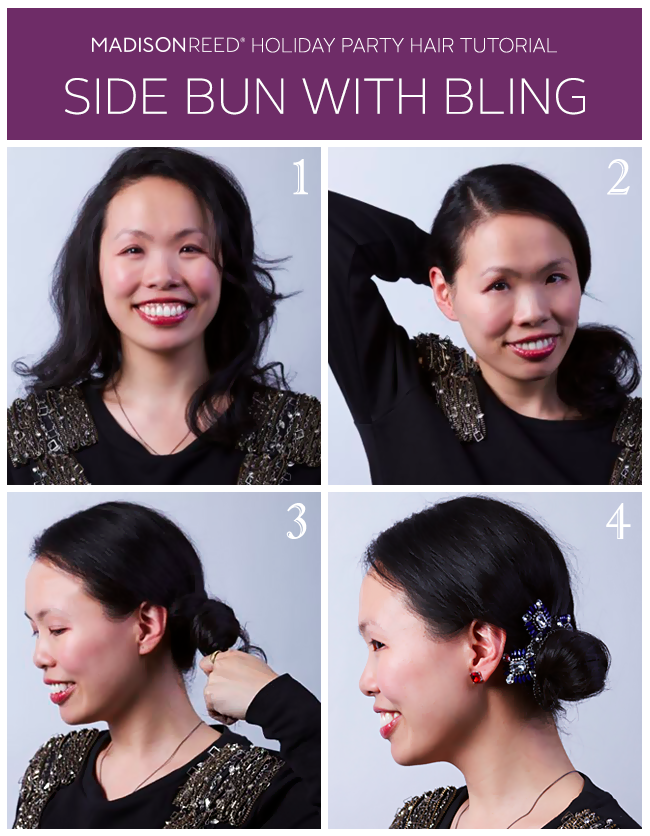 How to Create a Side Bun with Bling
1. Start with dry hair. Use a curling iron to add a little texture. Second-day hair works really well too.
2. Make a side part. Gather hair below the ear on the side opposite your part for a more dramatic effect.
3. Twist hair and pin into a bun.
4. Add a beautiful barrette right above the bun. Get creative with what you have! In this photo, we took a shiny necklace and pinned it above the bun. Use bobby pins to fasten securely for beautiful style that won't stop.
Even the simplest of styles can be dramatic with a little extra sparkle. 
Give your hair that extra shine every day with MadisonReed's Radiant Color Kit or the new semi-permanent ColorReviving Gloss. Madison Reed's hair color is better for you and better for your hair as it contains no harsh chemicals like PPD or ammonia. Find your perfect hair color today!
---
You can find MomsWhoSave on 
Facebook,
Instagram
, and 
Twitter
. Join us for updates!
Don't miss a thing! Subscribe to MomsWhoSave's blog posts below! Then be sure to confirm your subscription when you get the confirmation email.
Disclosure: MomsWhoSave posts may contain affiliate links and sponsored content that helps to support this site. See full disclosure policy here.