Last updated on April 27th, 2019 at 02:24 am
When it's cold outside, our family loves to warm up with with hot and hearty comfort food. That's why I'm excited for the #BUSHSChiliBeans Twitter Party on Tuesday, February 19th. We'll be talking about our favorite warm-up dishes and about BUSH'S®! You'll find BUSH'S Chili Beans in so many of our best winter recipes.
Here are the party details: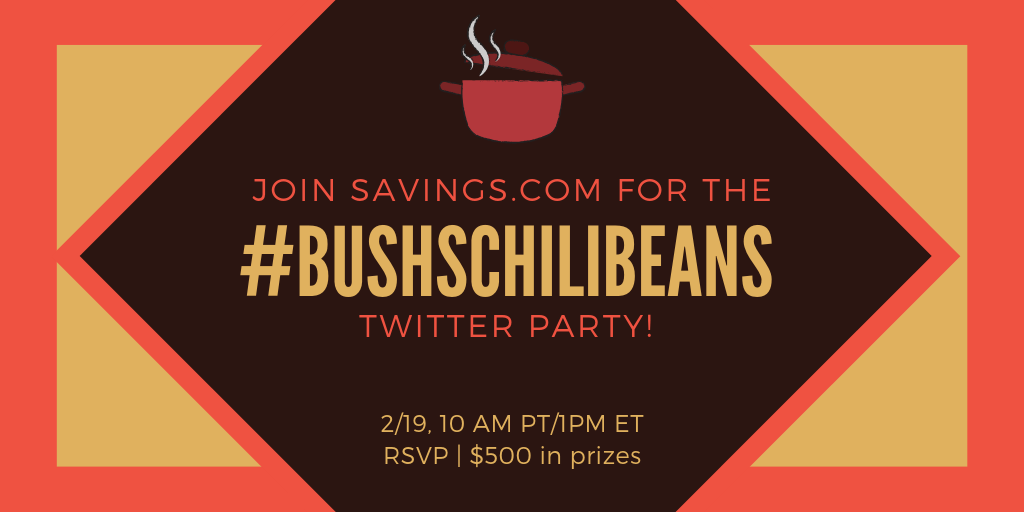 DATE

: Tuesday, February 19, 2019

TIME

: 1:00 pm – 2:00 pm Eastern time

HASHTAG:

Use hashtage #BUSHSChiliBeans to follow the party.
PRIZES: (6) $25 Gift Cards from Walmart, (2) $50 Gift Cards from Walmart, (1) $100 Gift Card from Walmart, (1) $150 Gift Card from Walmart
HOST: @savings
RSVP: Click to RSVP
BUSH'S CHILI BEANS COUPON
Since you'll be picking up all kinds of tasty new BUSH'S® Chili Beans recipes at our Twitter party, use this coupon to save $1 when you buy any two (2) BUSH'S® Chili Beans.
#BUSHSCHILIBEANS GIVEAWAY
Would you like the chance to win even more prizes sponsored by BUSH'S Chili Beans? Enter the #BUSHSChiliBeans Giveaway through Friday, February 22nd! You'll have a chance to win one of 10 Walmart gift cards !
---
You can also find MomsWhoSave on Pinterest, Facebook, Instagram, and Twitter. Join us for updates.
Don't miss a thing! Subscribe to MomsWhoSave's blog posts below! Then be sure to confirm your subscription when you get the confirmation email.